Kayak Trips
Prepare for you Kayak Day
Chiang Mai Kayaking Class 1 -2  River basics and event briefing
Here in Northern Thailand we are blessed with the perfect weather conditions to enjoy kayaking all year round.  Hypothermia never comes in to play , the cool waters actually ads to the pleasant experience.  Leisure kayaking and jungle exploration is doable all year on various section of the rivers , we do not share the same over crowded waters as the rafting companies have to. We enjoy an exploratory  approach to our kayaking expeditions.  Although we do provide a set program we always are taking weather and water conditions into consideration  and are flexible enough to pick the best river sections for the day after meeting the groups.  Guides, Instructors have extensive experience on our selection of rivers trips and are happy to coach and assist you to ensure a pleasant passage down the river. Prior to departure we will brief you in basic kayak skills and river conditions, to allow us to more effectively coach you on the water.
You should be an average swimmer. Participants planning kayaking on rivers should have some upper body strength and have some sport back ground such as tennis ,squash or swimming,  In difference to rafting you are the captain of your own boat and are solely directing it down the river. Sudden spurts of aggressive paddling are to be expected  at times . The good news is though , if you do mess up the consequences are mild . If you want plenty of time to make your moves we have the perfect Class 1  river sections for you such as Kayak # D (Mae Ngat Valley), here the water runs wide and lazily through the Valley  , perfect  family fun.  River Class 1-3  Kayak # A and E  are a bit more challenging with tighter turns and tree handicaps, but still suitable for the motivated beginner.
For young children (under 9) we usually recommend paddling Class 1 River Trip D with and adult in a double Kayak.
On Jungle Trips Class 1-3 rivers such as Trip # A, E we prefer single kayaks (vs Doubles), the tighter the turns the smaller and more maneuverable the boats should be. For beginners in such challenging river sections a maneuverable Sit on Top Kayak with backrest  is the best bet. Wider currents with less 'obstacles', such as Trip D,  Touring kayaks with large cockpits are provided.  Advanced kayakers and kayakers that are prepared to do learn the "WET Exit "can be provided with White Water kayaks sit in boats.  On multiday trips we use slightly longer "River runners" so we have the forward speed but still have the maneuverability we need, such as the Jackson Karma RG or the Jackson Traverse
Our kayaking trips take place about 1 hrs driving out of Chiang mai. Bring an extra set of clothes for the ride back .You should wear shorts or swimsuit, t-shirt or a lycra when on your kayak. Wear a hat, sunglasses, river shoes (sneakers ok, or river sandals that don't come off) Bring sunscreen and repellent.  Should you have none of the above , we are ready to equip you at our shop before departure.  
Drinking water and Lunch is provided ,  We usually carry a water proof camera and  are happy to shoot some photos of you during the trip. We provide: Helmets where needed,  PFDs and gloves.   A staff member will supervise your belongings left behind while you are paddling.A
River kayak Equipment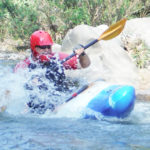 White water kayaks are short maneuverable boats suitable to impact rocks drop off falls, wearing a spray skirt the boat can be roled without exiting. White water boats range from "Play boats ", very short to "River runners" a longer boat, great for touring rivers. River Class 1-5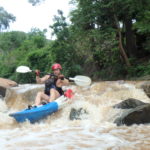 Sit on Top Kayaks come in all sizes and shapes, there main feature is the fact, in case of a spill, you just fall out, the boats have "scupper holes" so all access water can run off . Unless damaged the boat wont sink or fill up with water and is easy to up right . We find it very useful for beginners doing their first rapids as they are maneuverable but directional enough to make for an enjoyable cruise down the river.      River Class 1-3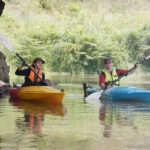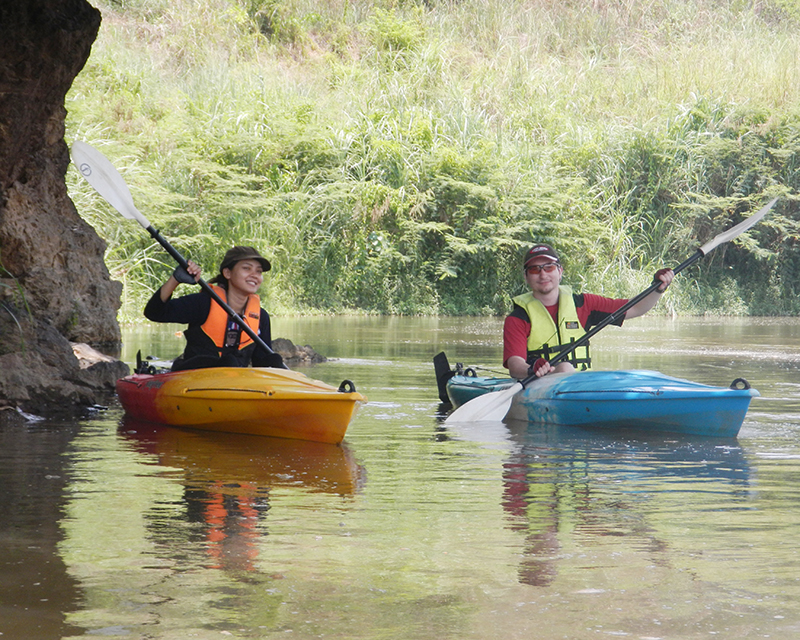 Sit in Touring Boats are the perfect boat for wider rivers. The longer the faster the boat, the trick is to find a boat that still turns well but gives you that forward speed. River Class 1-2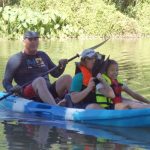 Sit on Top Double Kayaks are quite popular. Combined weight in a DBl needs to be considered . Doubles are very suitable for adults with children in a safe river.  A double kayak when paddled in sync can be quite fast, To learn how to maneuver a kayak, if possible do it in a single kayak though .  River Class 1-2                                 
River Class 1 - 6
Classification
There are six categories, each referred to as "Grade" or "Class" followed by a number. The scale is not linear, nor is it fixed. For instance, there can be difficult grade twos, easy grade threes, and so on. The grade of a river may (and usually does) change with the level of flow. Often a river or rapid will be given a numerical grade, and then a plus (+) or minus (-) to indicate if it is in the higher or lower end of the difficulty level. While a river section may be given an overall grading, it may contain sections above that grade, often noted as features, or conversely, it may contain sections of lower graded water as well. Details of portages may be given if these pose specific challenges. A summary of river classifications as presented by the American Whitewater Association:[1]
Class I:
Easy
Fast moving water with riffles and small waves. Few obstructions, all obvious and easily missed with little training. Risk to swimmers is slight; self-rescue is easy.  Our Trips :  Kayak # B , D, F, G, H, I, 20
 
Class II:
Novice

Straightforward rapids with wide, clear channels which are evident without scouting. Occasional maneuvering may be required, but rocks and medium-sized waves are easily avoided by trained paddlers. Swimmers are seldom injured and group assistance, while helpful, is seldom needed. Rapids that are at the upper end of this difficulty range are designated Class II+. Our Trips : Kayak A (1-2), E (1-2),

 

Class III:




Intermediate

Rapids with moderate, irregular waves which may be difficult to avoid and which can swamp an open canoe. Complex maneuvers in fast current and good boat control in tight passages or around ledges are often required; large waves or strainers may be present but are easily avoided. Strong eddies and powerful current effects can be found, particularly on large-volume rivers. Scouting is advisable for inexperienced parties. Injuries while swimming are rare; self-rescue is usually easy but group assistance may be required to avoid long swims. Rapids that are at the lower or upper end of this difficulty range are designated Class III- or Class III+ respectively.

Our Trips : Kayak E (1-3) , F2 (2-3), F4(2-3)

 
Class IV:
Advanced
Intense, powerful but predictable rapids requiring precise boat handling in turbulent water. Depending on the character of the river, it may feature large, unavoidable waves and holes or constricted passages demanding fast maneuvers under pressure. A fast, reliable eddy turn may be needed to initiate maneuvers, scout rapids, or rest. Rapids may require "must make" moves above dangerous hazards. Scouting may be necessary the first time down. Risk of injury to swimmers is moderate to high, and water conditions may make self-rescue difficult. Group assistance for rescue is often essential but requires practiced skills. For kayakers, a strong roll is highly recommended. Rapids that are at the lower or upper end of this difficulty range are designated Class IV- or Class IV+ respectively.


Our Trips : Kayak E+ , Kayak K, Kayak Pai , Mae Taeng  Rafting

 

Class V:




Expert

Extremely long, obstructed, or very violent rapids which expose a paddler to added risk. Drops may contain large, unavoidable waves and holes or steep, congested chutes with complex, demanding routes. Rapids may continue for long distances between pools, demanding a high level of fitness. What eddies exist may be small, turbulent, or difficult to reach. At the high end of the scale, several of these factors may be combined. Scouting is recommended but may be difficult. Swims are dangerous, and rescue is often difficult even for experts. Proper equipment, extensive experience, and practiced rescue skills are essential.

Because of the large range of difficulty that exists beyond Class IV, Class V is an open-ended, multiple-level scale designated by class 5.0, 5.1, 5.2, etc. Each of these levels is an order of magnitude more difficult than the last. That is, going from Class 5.0 to Class 5.1 is a similar order of magnitude as increasing from Class IV to Class 5.0. Our Trips : Inquire   

 
Class VI:
Extreme and Exploratory Rapids
Runs of this classification are rarely attempted and often exemplify the extremes of difficulty, unpredictability and danger. The consequences of errors are severe and rescue may be impossible. For teams of experts only, at favorable water levels, after close personal inspection and taking all precautions. 

Our Trips: n/a
Basic Rivers currents
"EDDIES"  and the Main current
Rivers will take us through the most beautiful undisturbed nature you can imagine. Usually we will paddle "Down stream" so we can make more mileage and enjoy the cruise. Given enough current thats definitely the only way to go. How ever not all currents head down stream on your cruise . As we paddle past a big rock or small islands we notice the water going in the opposite direction  just downstream of one of those obstructions. That area is called an "Eddy". Here the water swirls around and travels"upstream" like it is filling a vacuum.  Eddies for the same reason can be found on the inside of every turn in the river, Our main current that we prefer to travel on is separated from the Eddy current by an "Eddy line"visible on the water surface.  Depending on the kayakers goals , he may choose to avoid the Eddy by paddling on the outside of the turn or use the EDDY as the perfect place to stop. As we go down our first currents and "friendly rapids" we are working hard to remain in fastest part of the river flow which is also called a wave trail. We can quickly tell that the river flows the quickest in the center on a strait section and then continues on to the outside of the turn. So thats were we are when we kayak down a river on the out side of the turns and in the center until we choose to stop and find a Eddy . Needless to say we take Hazards in consideration. We entertain river sections with very few and benign hazards to challenging jungle bits and rapids. 
Basic maneuvers
Entry level maneuvers covered at the safety briefing :
Forward propelling paddle stroke
Forward and back "sweep stroke"
Identify different areas of currents in a river
The "Eddy Out " maneuver, paddle stroke associated, confirm success
The "Peel Out " maneuver, dealing with oncoming main current
Navigating a sharp turn, establishing up and down stream gate posts
Navigating below and between overhanging brush
Awareness and avoiding of hazards
The "ferry across" maneuver 
Body posture and the relationship of cross currents and boat balance
Group environment on the river
Becoming a swimmer , what to do
Paddle signals  
Upon arrival at the river we take a bit of time to familiarize our self with the equipment and practice especially the "Eddy Out" maneuver. (How to stop)
While on the trip our coaches are with you through out the whole session, ready to assist. We know the rivers very well and you will find our tips and local knowledge quite valuable at times.
Achievement Certificate available, useful for future rentals and Kayak Trip reservations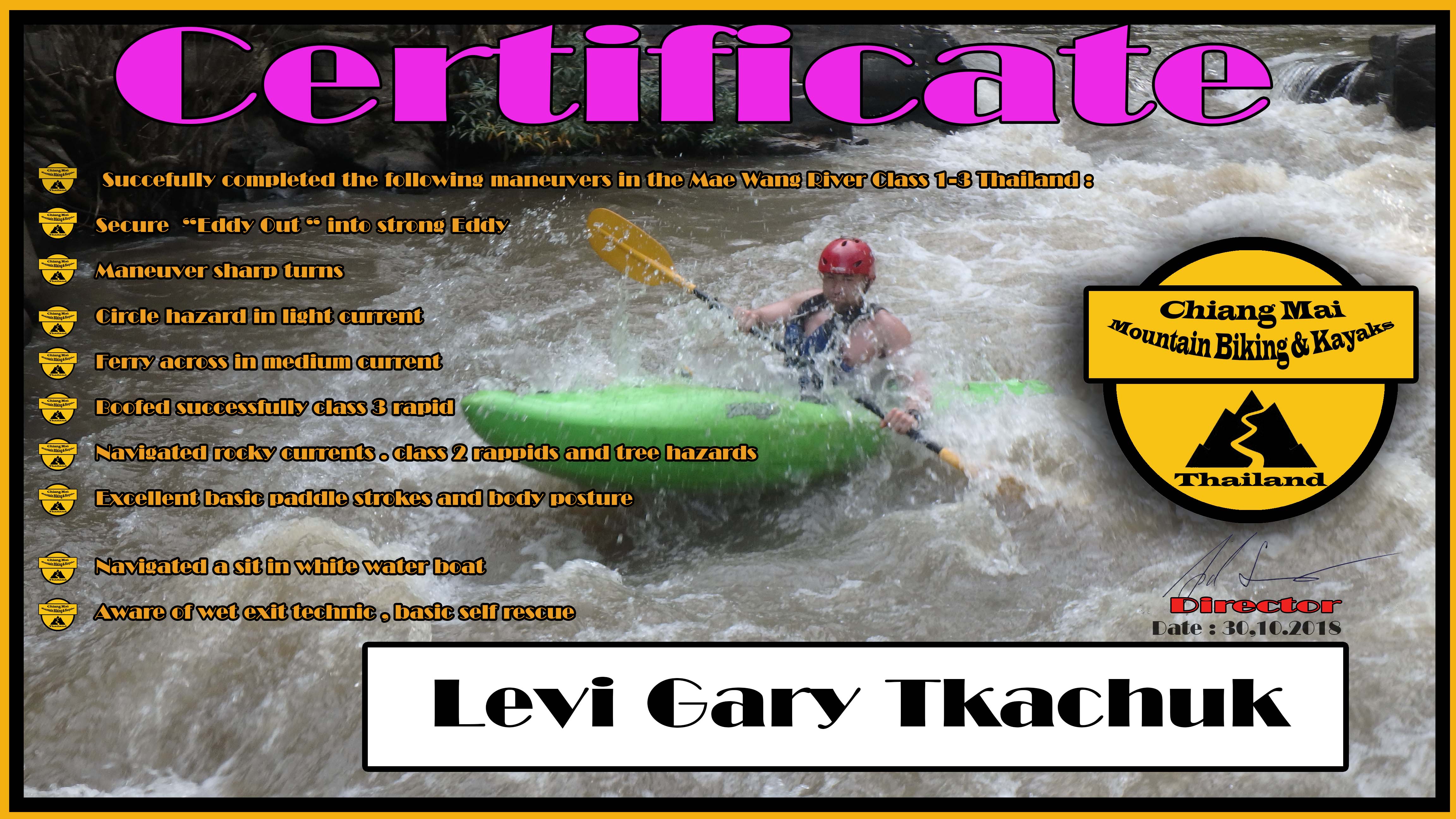 Affordable Kayak Rental Chiang mai
September 2023
M
T
W
T
F
S
S
1
2
3
4
5
6
7
8
9
10
11
12
13
14
15
16
17
18
19
20
21
22
23
24
25
26
27
28
29
30
Affordable Kayak Rental Chiang mai